Pipe Organ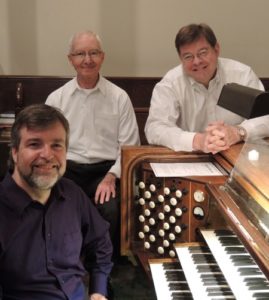 Casavant Freres Opus 2708, 1962
Classic Opus C601 with stop additions by Walker Technical, 2012

Lawrence Phelps
Tonal Director 
The St Simon's Pipe Organ is central to the leadership of Sunday morning worship. The music and liturgy at St Simon's demand a good pipe organ to support the fine choir and musical tradition. The design of the instrument is two-fold. One, to accompany singing of the choir and congregation and inspire a sense of prayer and worship of God through music, and two as a solo instrument. The current instrument was build and installed in 1962 by Casavant Frères Limitée Saint-Hyacinthe, Québec. The instrument is an early example and one of several in Toronto build under the tonal direction of the renowned Lawrence Phelps. Phelps is credited with reviving the Casavant firm to produce instruments of outstanding merit between the late 50's and early 70's.
The instrument is a product of the Organ Revival Movement with relatively low wind pressure (2 1/2″ WC), and clear individual stop voicing, however it retains its English chorus ensemble character requisite for its primary function, that of leading the Traditional Anglican worship service.
Organ Tonal Enhancements – May 2012

Through the generous support of members of St Simon's Parish and individual donors, the tonal palette of the instrument has been expanded using technology non-existent when the instrument was originally built. The addition of several digital 32′ stops has greatly enhance the presence of the deep tones and give the listener the ability to feel the instrument as well as hear it. Some deep tones will be suited to soft tones from the organ and others will add to the thrilling sound of the full organ.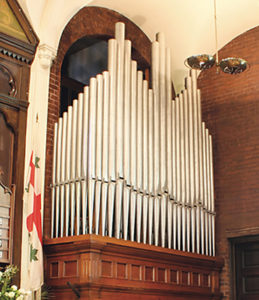 Other stops have been added to provide some badly needed "colour" or softer solo type stops.  A Vox Angelica stop was added to give a softer string option in the Swell Division and both a 4′ Principal stop and 4 rank Mixture now play in the Choir Division to balance the division better with the louder Swell Division.   The addition of 11 programmable MIDI stops give access to hundreds of additional voices through the Rogers/Roland MX-200 Sound Module