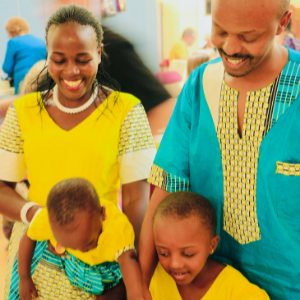 Rogers and Diana Beyongyera
Rogers Beyongyera fled Uganda to come to Toronto in 2008. When he was walking the streets looking for a church, the only one with its doors open was St. Peter's Anglican on Carlton Street. Rogers went in, was "warmly welcomed", and has been part of the St Peters and now St Peters St Simons community ever since.
In 2019, Rogers' wife, Diana, and two young daughters, Ashley and Arianna, also arrived in Toronto after long airplane journeys that started in Entebbe, Uganda. It was a joyous reunion after -much thanks to the work of the SPSS Refugee Committee— the Canadian government accepted the paperwork to get this little family re-united.
Rogers is now a Canadian citizen and is employed as a social worker for the Salvation Army. The family, that now includes an addition, Alena Himbisa (which translates into 'message'), live in the Don Mills and Sheppard neighbourhood.