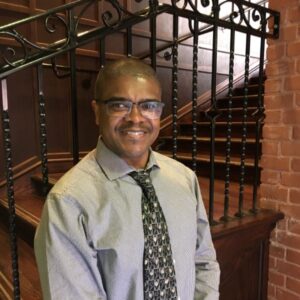 Kevin Sinclair
Growing up in Jamaica, Kevin Sinclair attended Anglican church from an early age: Sunday School at St. John the Baptist in Coleyville-Manchester and then, as a young adult, various churches in Kingston until he left for Canada at age 29. A few years on, in 2009, he became involved with St Peter's Carlton Street in Toronto. He found it "a welcoming church with a pleasant little garden and quite a few West Indian members." He participated as a reader and singing in the choir. When St Peter's amalgamated with St Simon the Apostle, Kevin followed and enjoyed the warmth and welcome of the new, larger congregation. For years, he escorted his mom, Lisett, who was wheelchair-bound, to church every Sunday. When Lisett passed away in 2020, Kevin appreciated the church's support through that difficult time.
The basic reason to go to church, he says, is to "worship God together with your brothers and sisters. Your life needs to be kept focused on the ways of God."
He participates in the annual Caribbean Night and, with some acting experience, enjoys the occasional role as a reader during services or leading the 'prayers of the people'. An avid gardener, he is also a volunteer in the group that keeps the church gardens and grounds spruced up.