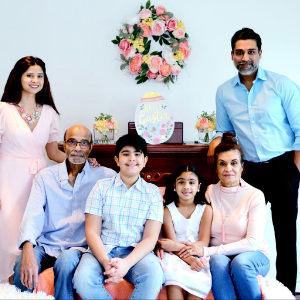 The Emanuel Family
The Emanuel family represent a three generation presence at SPSS. Pamela and Stanley Emanuel came to Canada from Pakistan in 1993 following family members who had immigrated two decades earlier. Stanley had a career in aeronautics and electronics, and they had three children. They took up residence across Howard Street and decided to check out the church.
In the second generation, Asima and Derek were both engaged and married in the church as was Derek's sister Amber. Though the family moved to Scarborough, they continued with their connection to what is now St Peter and St Simon.
Grandchildren Daniel, 12, and Zara, 8, have been part of three successive Christmas pageants including one in which mom, Asima, also had a role.
"Everybody there is loving and friendly, we feel committed to the church and the congregation." Asima even maintains facebook connections with a former priest.