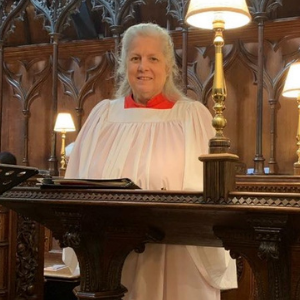 Carol Peck
Whenever you turn around at St Peter and St Simon's, you are likely to run into Carol Peck. Carol organizes the garden guild that nurtures plants for the two magnificent outdoor gardens; she is in charge of the church lending library as well as the choir music library. In between she has a semi-permanent chair in the church office –sometimes accompanied by her cat as part of the church's successful mouse control program.
Born in New York, Carol became conversant with the Book of Common Prayer through childhood attendance at an Episcopal convent school. In Canada she studied law in Windsor, and returned to live in Toronto in 1982.
She first checked out the SPSS community in the 1980s because her mother told her "if you want to meet people, go to church." She left when she wanted to sing in a choir and St Simon's offered one only to men and boys. But twenty years later she was back and promptly joined the soprano section of what was by now a mixed adult choir. She has been a fixture ever since.