Parish Re-Entry
On September 13th, 2020 our parish re-opened. We have since resumed online-only worship in accordance with public health requirements
A letter from the Rector and Wardens of the Church of St Peter and St Simon-the-Apostle
September 1, 2020
Enter His gates with thanksgiving, and come into His courts with praise. Psalm 100.3
Dear Parishioners and Friends of St Peter and St Simon-the-Apostle,
In mid-March when our Church buildings were closed for public gatherings including worship, we had no idea it would be a protocol that would last six months. It has been a challenging and strange time, yet we, along with other Churches and faith groups, have found ways to worship remotely, and to keep in touch. We are grateful to the many people who have helped us worship on-line and to our faithful parishioners and friends who have been with us over the weeks and months. We are also grateful to the many parishioners who have been working hard to ensure we have a safe and enjoyable return to our Church building. Thank you for your support, encouragement and prayers.
Just as we have come to adapt to this new normal, we are now in the position of being able to come back to worship in our Church building. On Sunday, September 13th we will re-open for in-person worship at St Peter and St Simon-the-Apostle. For the time being we will have one Sunday morning service at 10.30 am. It will be a said celebration of the Holy Eucharist with some restrictions such as no congregational singing, no choir and no anointing for healing. Holy Communion will be administered in one kind only (bread) at a standing station by the chancel steps. There will be organ music, a Cantor and some pre-recorded music offered by Robin Davis and members of the choir. While this is a great sadness, especially for members of our beloved choir, all of these changes are in keeping with directions of public health and the Diocesan guidelines and are for the well-being and safety of all. For those unable to attend at the present time there will be a live-stream of the service made available. The mid-week said Eucharist will resume on Wednesday, September 23rd at 11.00 am. Compline will take place on Tuesdays at 8 pm via Zoom, beginning on September 15th.
Please see the key information below outlining what you can expect when you come to Church. You may also visit the website of the Diocese of Toronto for the Re-Opening Guidelines and video.
Friends, we have longed for the day when we can meet again. Though we may not be able to sing out the Te Deum lustily as we would like, the time is coming when we will be together for worship and praise and to receive the Blessed Sacrament which we have missed so much. We give thanks to Almighty God for all the goodness and love He continues to bestow upon us, in good times and in times of difficulty, and we commend to his gracious care especially those who suffer and those who serve. We look forward to seeing you – and please, stay safe.
Lord, we beseech thee to keep thy household the Church in continual godliness;
that through thy protection it may be free from all adversities,
and devoutly given to serve thee in good works, to the glory of thy Name;
through Jesus Christ our Lord. Amen.
Collect for the Twenty-Second Sunday after Trinity, BCP p. 254.
Yours Faithfully,
The Reverend Canon Geoffrey Sangwine, Rector
Dr Ted Robinson – Rector's Warden (Health & Safety Working Group Chair)
Ms Vanessa Scott – People's Warden
Ms Laurie Sanderson & Ms Stephanie Woodside – Deputy Wardens
---
Coming Back to Church: What You Can Expect & What You Need to Know
Attendance Information
Anyone with symptom(s) of COVID-19, even if they are mild, should stay home. The COVID-19 Self-Assessment Test from the Ministry of Health is available on their website. We are also providing a self-assessment guide below.
Space in the Church will be limited to 55 in the nave pews. Note: this is not including clergy, server or musicians in the chancel.
For Sunday, September 13th we ask that you inform us of your attendance by noon on Friday, September 11th. The office contact is 416.923.8714 or office@stpeterstsimon.ca. Please inform us only if you plan to attend. This is to give us an idea of numbers. If you don't pre-register and still come to Church that day you will of course be invited in, space permitting. If we feel the need for pre-registration on a weekly basis we will inform the congregation.
Please consider virtual services of our live-stream option if:
you have symptoms of COVID-19, even if they are mild,
you are a clinically vulnerable person, especially those over 70 years of age
you are immune-compromised.
There will be no coffee hour.
Please consider bringing your own bottled water/beverage, as fountains are turned off and we are not able to distribute food or beverages.
We will be able to gather outside on the south lawn following social distance protocols after the service – weather permitting.
There are floor markings throughout the building much as you see in other public spaces. Please follow those markings. We have removed the furniture from the lobby to create more space and there will be a flow of people protocol in the building.
When you Arrive
Please wear a mask or face-covering. Exemptions include children under two years of age or anyone who has trouble breathing or managing face coverings without assistance. Disposable masks will be available at the welcome table.
Enter through the fully accessible north entrance on Bloor Street. Outside on the porch there will be a screening station staffed by trained parish volunteers. Here you will be signed-in. Please note you will not be able to enter if you have symptoms of COVID-19, travelled outside Canada in the last 14 days, come in close contact with a person with symptoms of COVID-19 or a confirmed case within the past 14 days.
When you enter the building you will be welcomed, given hand sanitizer and invited to proceed into the Church.
A Sides-person will seat you. A service bulletin will be provided. All books have been removed to avoid surface contact.
Worship
Please avoid physical contact with others from different households or those not in "your bubble". Greet each other with a smile, bow or wave. The peace will not be exchanged physically.
Offering plates will be placed at the back of the Church and will be monitored by a Steward.
Please consider Pre-Authorized Giving (PAG) as a safe, simple and helpful way to make your financial contribution to the Church.
Do not share your service bulletin with anyone and take it home with you.
Practice good hygiene etiquette. For example, if you do cough or sneeze, please cover your mouth with a tissue or if need be, cough into the elbow portion of your arm. Always sanitize or wash your hands afterwards.
Please avoid unnecessary movement in the church or building. Stay in your pew until ushered forward for Communion. Washrooms are available on the lower level of the building.
The Eucharist
Individuals who choose to receive Holy Communion should proceed as follows:
Approach the Communion Station from the centre aisle only, at the invitation of the sides-person. Markers are clearly displayed on the floor for 2 meter spacing.
Use the hand sanitizer available near the station prior to receiving the wafer.
Follow floor markings and stop 2 meters from the Clergy/Communion Minister to hear the words of administration such as "The body of Christ, the bread of Heaven". You may respond with "Amen".
Move forward and cup your hands to receive the wafer into your palm. The Administering Cleric/Communion Minister will have sanitized hands and will use medical tongs to place the wafer safely.
Move two meters to the side of the Communion Station (this will be marked). Undo your mask on one side to enable you to consume the wafer.
Replace your mask – hand sanitizer will be provided for sanitization.
Proceed down the side aisle to your seat.
Leaving the Church
Please exit from one of the south doors, preferably when the Postlude has ended. Sides-people will be available for assistance.
Other Things to Note
The Diocesan Guidelines stipulate that children under the age of ten are required to stay with their parents/guardians in Church who are responsible for their care and safety. Children over the age of ten may attend Church School. At SPSS we have decided for now to continue running Church School online. It will be hosted from the Church.
The clergy and server/crucifer (no choir) will process and recess using the pulpit door only and/or the door in the sanctuary leading to the vestry.
Microphones are not to be shared. There will be one reader each Sunday who will read both the first and second readings unless there are two readers from the same household in which case the readings may be shared.
Intercessions will be led from a standing lectern at the back of the Church. There will not be a sheet for people to add names. If you would like a name included in the Sunday prayers please inform the Church office by Friday that week. If there is a last-minute prayer need, please speak with Fr Geoffrey, Deacon Michael or inform a sides-person when you arrive.
The Gospel will be proclaimed from the chancel steps.
The Preacher will use the pulpit.
The High Altar will be used for the service. Communion will be brought down to the standing station by the Presiding Celebrant or the designated person(s) appointed to administer Communion.
Only the Presiding Celebrant will set-up the Eucharistic vessels and will stand at the altar.
Meetings and Other Gatherings: We are able to meet in small groups observing social distancing protocols; however, we will continue to make use of technical resources such as Zoom for many of our meetings.
Masks are to be used at all times by clergy and congregation during worship and meetings.
Please do not hesitate to contact us if you have any questions or concerns.
We look forward to welcoming you to St Peter and St Simon-the-Apostle.
---
COVID-19 Self-Assessment Questionnaire
Prior to arriving we encourage you to conduct the self-assessment recommended by the Ontario Ministry of Health as provided below and found here.
This self-assessment of your daily health status ensures that you continue to meet the health and safety requirements from the Public Health Agency of Canada's (PHAC) guidelines regarding the management of the COVID-19 pandemic.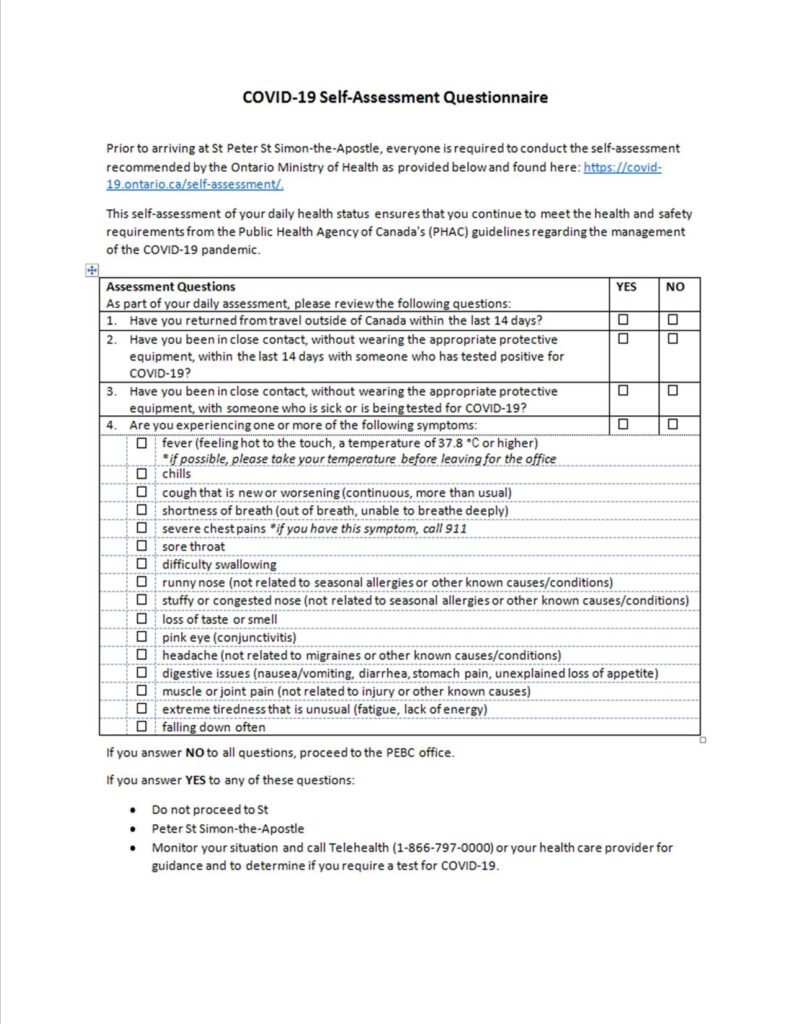 If you answer NO to all questions, proceed to the Church.
If you answer YES to any of these questions: Please Do not come to the Church.
Monitor your situation and call Telehealth (1-866-797-0000) or your health care provider for guidance and to determine if you require a test for COVID-19.
---