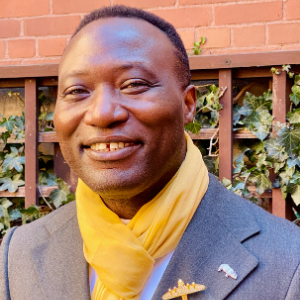 Lewis Ngwamba Kabonde
Verger
Lewis was born and raised in the Democratic Republic of Congo and he has a Bachelors Degree in Interior Design at Académie des Beaux-Arts de Kinshasa.
Lewis is a soccer coach, working with children who are aged 5-8 years old. His soccer work focuses on helping kids who live in difficult communities to use the sport as a vehicle to re-establish themselves in society in a healthy manner and to find a way to be responsible citizens in life.
When he was younger, Lewis was Bayer Munich fan, but now he is supporting Arsenal of London, but of course, he still supports his local clubs, TP Mazembe and Vita Club.
Lewis, who was staying in our Men's shelter, joined St. Peter and St. Simon's in August of 2018. The first thing that attracted Lewis to our community was the beautiful choir, the rich liturgy, and the warm-hearted welcome of the parishioners.
Lewis is happy that he has found a spiritual home and a job here at St. Peter and St. Simon's. Lewis is a true extrovert and will be happy to share a conversation and a smile when you drop in.