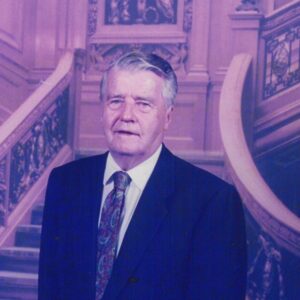 In Memoriam + Jim Colling
James Evans Colling, age 93, of Toronto, Ontario passed away on Sunday, April 24, 2022. James was born May 8, 1928. Jim Colling, son of the late Mr and Mrs J.C. Colling and beloved step-son of Alice Maude Colling. Dear friend of Paul Moshe. Uncle of Ruth, Georgina and Herbert.
Last week we received the sad news that our dear friend and parishioner Jim Colling had died.  His funeral service was conducted on behalf of Father Geoffrey by the Reverend Canon David Harrison.  Jim is buried at Park Lawn Cemetery with his beloved parents. Jim was a life-long Anglican.  He grew up in the parish of St Clement, Eglinton where he was a boy chorister.  Jim later moved to St Peter's, Carleton Street where, for many years, he was a devoted member of the congregation and involved in many aspects of parish life.  When the parish amalgamation took place in 2016 Jim cheerfully continued as a faithful worshipper at St Peter and St Simon-the-Apostle.  We remember Jim sitting in his usual pew in the south aisle, loving worship, attentive to sermons, enjoying coffee hour and parish events.  A few years ago, we were delighted to celebrate Jim's 90th birthday here in the Parish Hall which was attended by his friends and members of his family.  Although Jim was in declining health in recent years, he continued to enjoy telling stories of his colourful and full life which included close friends, antique collection, and extensive travel around the world.  Above all Jim was a man of faith.  He was deeply aware of the loving presence of God.  We give thanks for Jim's friendship and witness to the Lord in whose presence he rests.