Who we are
Pastoral Staff
The Reverend Canon Geoffrey Sangwine
Incumbent 
416-923-8714, ext. 202
Fr Geoff joined St. Simon's in August 2016 and was made Incumbent of the newly amalgamated parish of St. Peter and St. Simon's on June 16, 2017.
After studying Divinity at Trinity College, Geoff was ordained a deacon in May 2000 and was both Assistant Curate and Associate Priest at St. Clement's, Eglinton.
In 2004 Geoff went to St. Joseph of Nazareth in Brampton, a dynamic multicultural parish, a community which he says "lives the gospel in a dynamic and joyful way."
In 2010 he moved to the historic St. John's Norway in the east end of Toronto, where he worked with the parish to re-invigorate the music ministry and the Church School..
Geoff was for many years a chorister at St. James Cathedral and he earned a Bachelor of Music from the University of Toronto. He serves as the Liturgical Officer for York-Scarborough and sits on the Postulancy committee, identifying the next generation of priests in the diocese.
Geoff has a passion for classical Anglican worship, vibrant church music, and the enthusiasm to minister in the heart of the city, in a busy time and in a busy world. He is delighted to serve at St. Peter and St. Simon's during this exciting time in our parish and our neighbourhood.
The Reverend Michael Perry
Assistant Curate
416-923-8714, ext. 203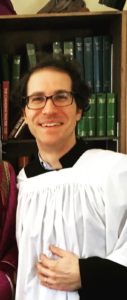 Michael grew up in Toronto, in the Yonge & Lawrence area and attended Little Trinity Anglican, in the Distillery District, where he made some lifelong friendships and a lifelong commitment to Liverpool Football Club.
After studying International Relations at Mount Allison University, he moved to the Champagne region of France and stayed two years in the medieval city of Troyes.
While living in Troyes he discovered the community of Taizé, which welcomes tens of thousands of young people to experience a week following the rhythms of monastic life.
Michael spent two years in Taizé and it was there that he discovered a sense of vocation in working towards reconciliation within the Church and grew into a contemplative prayer practice.
He and his wife, Yvonne, met in Teachers' College in Ottawa and were married in 2013.
Michael studied theology at Trinity College, Toronto and made many friends, read many books, and wrote many papers. He graduated in Spring of 2019 and was ordained to the transitional diaconate in the Diocese of Toronto.  He is delighted to be at St. Peter and St. Simon-the-Apostle, especially as he lives in the parish boundaries.
Sileen
Coordinator, Child, Youth and Family Ministries
416-923-8714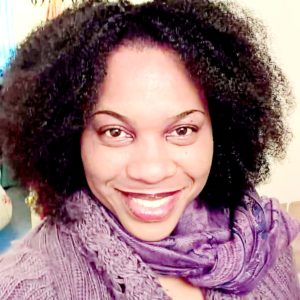 Sileen has been actively involved in children and youth ministry for several different churches. She is very passionate about teaching the little ones about God in song, games and other fun-filled ways. Sileen serves in more than one church ministry, striving to improve the Church's relationship with families and to strengthen children's personal relationship with God as they begin to know Him for themselves. With a background in visual, performing and literary arts, she brings vibrancy, excitement and creativity to our family ministry!
Sileen also loves and is actively involved in outreach efforts with the hope that the children's ministry will continue to have a positive impact on the families in the immediate and nearby communities resulting in more growth.
She is a graduate of Ryerson, Thorneloe, Laurentian and University of Toronto with degrees in Humanities, Divinity and Theology.
Music Staff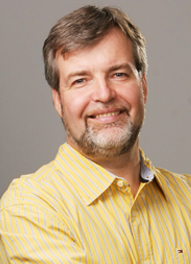 Robin Davis
Music Director
Robin Davis began his career as a church organist at the age of 15 in the local Anglican church.  In a career spanning 5 decades, he continues to share his passion for the opportunity to lead and inspire others through the power of music in worship.  Robin joined the staff at the then St. Simon's in 2011, following positions in several other Anglican and one United church in the Toronto area.  He is a graduate of the Faculty of Music, University of Toronto in Organ Performance, studying with John Tuttle.
 Robin is equally at home performing the organ works of JS Bach, working with the children on the annual popular Christmas Musical, or leading the semi-professional parish choir for Sunday services at SPSS or on tour in cathedrals in the UK.
Robin shares his love of church music with his wife Linda (also an Anglican church organist) as well as the love of playing golf.  Robin has 2 sons (yes who also golf).   Robin's "day-job" is as Sales Manager of the All-Weld Company, a custom metal fabricator in Scarborough.
Property & Admin Staff
Office Administration and Rentals
416-923-8714
Our office is open Monday to Friday, from 10 am – 3 pm.  If you are interested in booking our space, you may find general information and photos here.  For more detailed information please contact the office directly.
Daiverzon Guillermo
Sexton
Davierzon graduated with a Bachelors of Science in Agriculture from Mariano Marcos State University in the Philippines.
He worked in the Philippines at the Northern Food Corporation, as a Project Management Officer for more than nine years.
In 1994, he migrated to Canada and was employed by the Board of Trade in Dixon Road, Toronto, where he worked in the Facilities Department.
In 2003, he had a great opportunity to join and work with Wrigley Canada in their Production Department and later in their Department of Facilities.
In 2011 he joined St. Peter and St. Simon's as the Sexton, where we are lucky to have his adaptable skills managing the facility side of our operations. Daiverzon is quick to serve others, takes great care in completing his work responsibly and methodically, and takes pleasure in seeing things through to completion.
If you drop-in Monday to Friday, make sure to say hi to him.
Lewis Ngwamba Kabonde
Verger
Lewis was born and raised in the Democratic Republic of Congo and he has a Bachelors Degree in Interior Design at Académie des Beaux-Arts de Kinshasa.
Lewis is a soccer coach, working with children who are aged 5-8 years old. His soccer work focuses on helping kids who live in difficult communities to use the sport as a vehicle to re-establish themselves in society in a healthy manner and to find a way to be responsible citizens in life.
When he was younger, Lewis was Bayer Munich fan, but now he is supporting Arsenal of London, but of course, he still supports his local clubs, TP Mazembe and Vita Club.
Lewis, who was staying in our Men's shelter, joined St. Peter and St. Simon's in August of 2018. The first thing that attracted Lewis to our community was the beautiful choir, the rich liturgy, and the warm-hearted welcome of the parishioners.
Lewis is happy that he has found a spiritual home and a job here at St. Peter and St. Simon's. Lewis is a true extrovert and will be happy to share a conversation and a smile when you drop in.
Parish Leadership
Ted Robinson
Rector's Warden
416-697-7233
Ted Robinson and his family joined St. Simon's over 40 years ago. He was a warden from 1989 to 1992. Since then he has served as lay member of synod, chaired the Parish Selection Committee 
twice, and has been active in stewardship, refugee resettlement and Christian education. For many years he supported the wardens as a member of what is now called the Wardens' Council. He was also a member of the transition team supporting the amalgamation between St. Peter's and St. Simon's.
Ted has been married to Isabelle for over 50 years. He has two sons, Matthew and Andrew, both of whom were baptised, confirmed and married at our church; both attend Anglican churches with their families. Ted is a physician, practicing in Toronto since 1972. Currently he works with chronic pain patients, teaching them self-management strategies. When opportunity presents he enjoys relaxing at the cottage in Haliburton. He has been a Raptors fan since 1995.
Mary J.E. Martin
People's Warden

Mary Martin is an attorney practicing real estate and estate law for over forty years, since 1974, in the City of Toronto.
Mary attended the University of Western Ontario as an undergraduate and later attended
University of Toronto as a student of law. She was called to the Bar of Ontario in 1974 and then joined the firm of Geisler, Burgess Macdonald.
​​Called to the bar 1974
Real estate
Wills/Estates
University of Western Ontario, B.A.
University of Toronto, LL.B.
Johan van't Hof
Treasurer
Johan van 't Hof, CPA, CA is a chartered accountant and the CEO of Tonbridge Corporation which he co-founded in 2003. From 2005 to 2011 he also served as President and CEO of Tonbridge Power, an incubated company of Tonbridge Corp. In that capacity, he led the team in successfully achieving six major environmental and system stability permits, and closing seven financings for a total of $250 million, including a $161 million senior debt facility under the US Stimulus Act, and initiating construction. Mr. van 't Hof testified to the US Senate on transmission policy in 2007, and to the Canadian Parliament in 2010 on environmental regulatory policy. Tonbridge Power was sold to Enbridge for an enterprise value of close to $300M.From 2012 to 2015 he acted for a wood pellet biomass company, securing all construction and environmental permits, all fibre supply, logistics contracts, EPC design and agreements, and arranging debt and equity for closing of a total of $100M.
Currently, he is on the advisory board of Crystallex Corporation, a director for Rockwell Diamonds Corporation, and has served on seven other commercial and not-for-profit boards. He is also one of the representatives for the City of Toronto on the Greater Toronto Airport Authority regarding environment and noise. Mr. van 't Hof has been a special lecturer at the University of Toronto for years, and has taught at the University of Waterloo, as well as for the Ontario Institute of Chartered Accountants final graduation programme. He is a Canadian and Dutch citizen with languages including English, Dutch, French and German. Mr. van 't Hof received a Bachelor of Commerce and an M.B.A. in finance at the University of Toronto, and completed the Project Finance Program at the Amsterdam Institute of Finance.